Contact Precimet: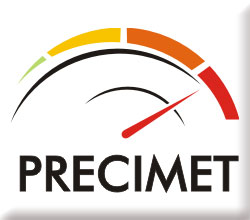 Address : 16/2 Rebecca Lodge, Near Sion Bus Depot,
Sion (W), Mumbai – 400 022. Maharashtra, INDIA
Phone : +91.22.24080068 / 24077531; Mobile: +91.9820281124 (Mr. Dharmesh Gandhi)
Email : dharmesh.gandhi@blue-waters.in
Web : http://www.blue-waters.in ; http://www.precimet.in
Call for a Product Catalogue Today!
INFORMATION to Furnish while Ordering Gauges:
1. Dial Size: In inches OR mm
2. Mounting: Direct, Surface, Flush Panel, Front Panel, Bracket, Clamps
3. Connection: Bottom, Back
4. Thread Size/Process Connection: ½" 1/4", 3/8", NPT / BSP / BSPT
5. Measuring Element: Bourdon, Diaphragm, Capsule, Chemical Seal Attachment
6. Process Temperature
7. Measuring Medium
8. Nature of Pressure: Pulsating / Steady
9. Equipment Vibration: Yes / No
10. Range: Selected range should be twice the operating pressure
Similarly for Temperature Gauges: specify measuring element of Bi-Metal, Mercury/Gas.
Do specify the accessories required along with the gauges for the system.
In case of any confusion, do not hesitate to contact our engineering team for assistance on the correct gauges and accessories for your system. Having and using the right equipment for your system will increase its longevity and provide a trouble-free process for your operations.